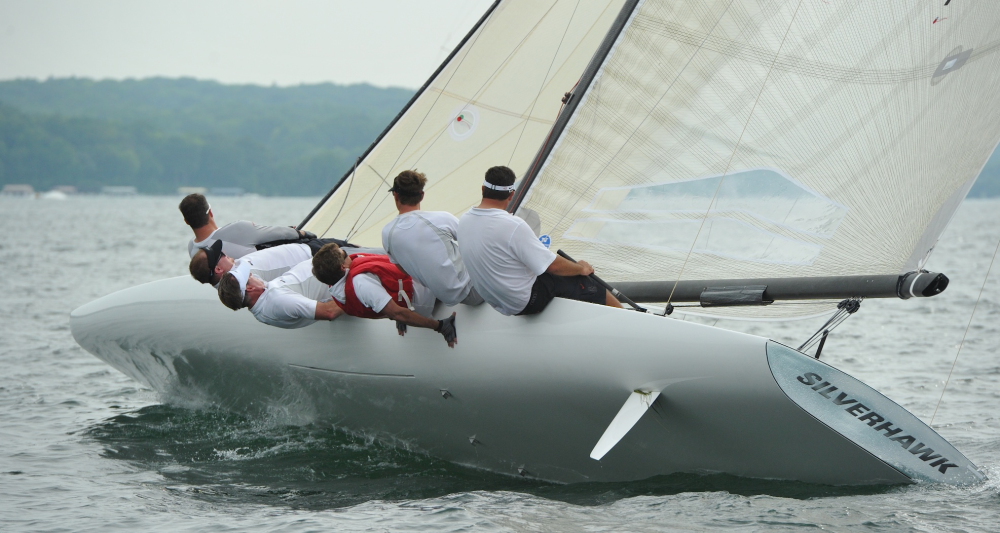 Lake Geneva, Wisc. – In a dramatic turn of events on Sunday at the 2013 A Scow National Championship hosted by the Lake Geneva Yacht Club, defending National Champions Andy Burdick and Terry Blanchard on Silverhawk conquered all. With one point and two races separating them from a second consecutive title, Burdick and Blanchard delivered a stunning 1-1 daily performance to win the Championship by two points over Pat Hughes' Melvin in second place.
John Anderson's EAGLEusa helmed by the young and vibrant Vincent Porter placed third, ahead of Mike Keefe on Ajax in fourth and Rob Evans on Cosmic Warrior for fifth.
It was a beautiful day for A Scow racing on Lake Geneva with plentiful sunshine and great breeze. PRO Hank Stuart and his impeccable and highly dedicated LGYC Race Committee commenced racing on time.
The Burdick/Blanchard effort took the bullet in the first race of the day, Race Four in the Championship Series. Porter/Anderson grabbed a nice second with Hughes in third. This win put Burdick/Blanchard in the lead by one. Burdick/Blanchard put another ace in the hole for Race Five, sealing the deal and confirming their second consecutive National Championship title win. Hughes came second with Jack Strothman on Animal House landing third.
TOP FIVE RESULTS (FINAL – After Five Races)
1.)  Andy Burdick/Terry Blanchard, Silverhawk; 2-3-2-1-1 = 9
2.) Pat Hughes, Melvin; 1-1-4-3-2 =  11
3.) Vincent Porter/John Anderson, EAGLEusa; 4-2-1-2-16/DNF = 25
4.) Mike Keefe, Ajax; 5-5-6-4-7 = 27
5.) Rob Evans, Cosmic Warrior; 10-4-5-5-4 = 28
View Full Results
View Full Photo Gallery – Steve Bernstein