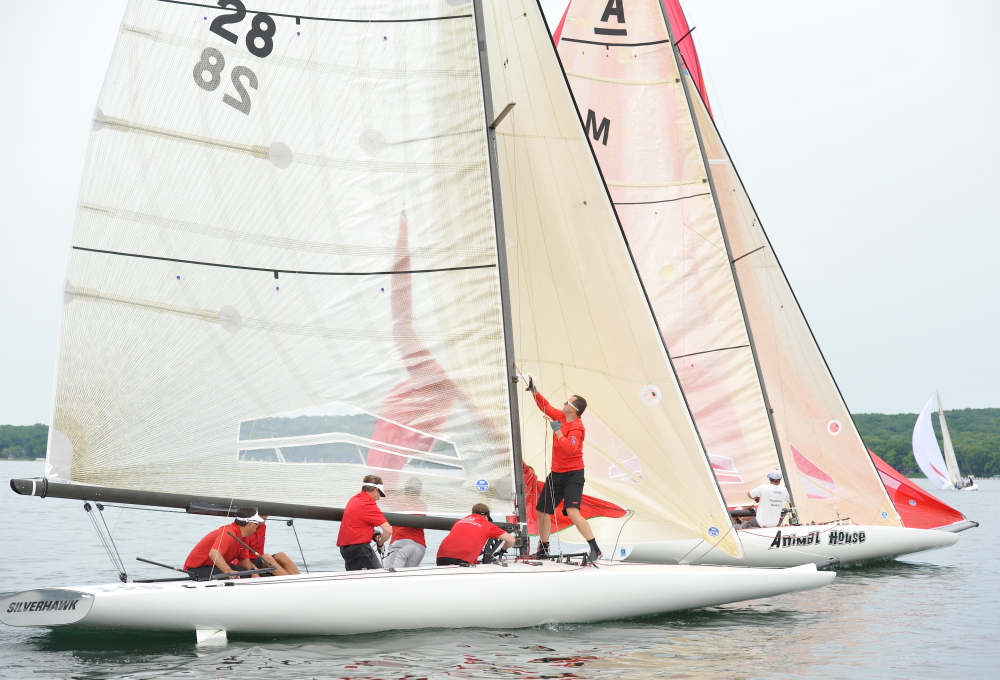 Lake Geneva, Wisc. – Day two of the 2013 A Scow National Championship hosted by the Lake Geneva Yacht Club commenced with an early on shore AP enabling another batch of rowdy thunderstorms to make their way east.
Around midday, PRO Hank Stuart lowered the AP as a stable SSW wind arrived making for an awesome afternoon of amazing racing on Lake Geneva. Stuart, along with the assistance of a very dedicated LGYC Race Committee, fired off two impeccable races — bearing 165, Course 6, distance of .75 with 10-16 knots of breeze — for the 15-strong fleet.
For the first race of the day, Race Two in the championship series, overnight leader Pat Hughes on Melvin was simply on fire claiming yet another classic bullet. Lake Geneva's John Anderson with Vincent Porter at the helm on EAGLEusa was his next best competition finishing second. Reigning A Scow National Champion Andy Burdick at the helm of Terry Blanchard's Silverhawk took third.
Race Three gave the Porter/Anderson team full redemption as they found their way to victory, just ahead of the Burdick/Blanchard team in second, then Tom Freytag on MadCap in third. Hughes remained strong finishing fourth, followed by Rob Evans on Cosmic Warrior in fifth.
THE ULTIMATE SHOWDOWN
The points spread is seriously tight as Sunday marks the final day of competition at the 2013 A Scow National Championship. Hughes is ahead by one, Porter/Anderson and Burdick/Blanchard sit second and third respectively with an equal seven points a piece. The final warning will sound at 10.30 a.m. with no start past 14.00. Two races are scheduled.
TOP FIVE RESULTS (After Three Races)
1.) Pat Hughes, Melvin; 1-1-4 = 6
2.) Vincent Porter/John Anderson, EAGLEusa; 4-2-1 = 7
3.) Andy Burdick/Terry Blanchard, Silverhawk; 2-3-2 = 7
4.) Mike Keefe, Ajax; 5-5-6 = 16
5.) Rob Evans, Cosmic Warrior; 10-4-5 = 19
View Full Results
View Photo Gallery – Steve Bernstein