The NCASA Board has discussed the 2021 season and our National Championship in particular. The good news is that all signs point to a lessening of regional and local pandemic restrictions, increasing availability of COVID-19 vaccines and we're all now experienced at "staying safe" as we go about our lives (masks, distancing, hand washing). So that everyone can enjoy themselves fully, we strongly recommend all participants get vaccinated and follow CDC guidelines for masks and social distancing. Anyone concerned about social activities should use their best judgement and opt-out if needed. If social activities must be cancelled for some reason, refunds will be provided.
Based on what we know today as of this writing, we are in full ready mode for our National Championship to be held Thursday June 24 – Sunday June 27, 2021 hosted by the Pewaukee Yacht Club in celebration of their 125th anniversary. On top of all that excitement, we should be seeing FOUR NEW MELGES A SCOWS on the starting line. The first new boats built in over a decade look awesome.
PYC and its members are very excited to show off their world renowned hospitality with their normal exuberance! Here is a rundown of the events:
The PYC club grounds (regatta HQ) will be available all day on Thursday the 24th for set up and practice.  Dry Sailing is available at the club and wet sailing in the Yacht Club Bay is also available (plan on a mooring and tackle for 6-8' of water depth). There will be NCASA staff at the club starting at 1500 until 1800 for those who want to make adjustments to their social package numbers.  The Bar will be open at 4 pm so plan on catching up w/ friends whom we've not seen for a couple years!  We are really looking forward to seeing you all!
The competitors briefing will take place at 9:30 and will be broadcast via VHF radio.  The channel will be posted in the Sailing Instructions which will be added to the online documents at Yacht Scoring on or before June 1st. Race one warning is set for 11:00 am.  We will be sailing our normal format—race 2 races each day back-to-back.  There will be Continental Breakfast Friday-Sunday morning at the PYC. 
Immediately following racing on our first day there will be a hosted cocktail party (included in Social Package) at the PYC w/ Dex's wrangled appetizers and other various sundries!  Always interesting to see what our Bilge Puller Admiral will come up with! Saturday will bring more racing in the same format.  Saturday evening will bring our traditional dinner party and team introductions (dinner included in the Social Package/cash bar).  The PYC will be serving something special as per usual!  Sunday concludes w/ the final racing and haul-out followed by lunch and awards presentation (also included in Social Package).
Registration:
Please make sure you register before midnight on May 29th as the $100 discount for early registration will end at that time.  Yacht Scoring once again is hosting our registration platform and our notice board and event communications. . It is important that you fill in you and your crews' phone and email addresses when you register as this will be the primary way you will receive amendments and notices from the RC, Judge/Jury, and Organizing Authority committees during the event.  In addition, the official notice board resides on the Yacht Scoring's Event site for us.
Accommodations:
There are a block of rooms reserved at The Ingleside Hotel in Pewaukee. To get the special rate you need to call 262-547-0201 and identify yourself with 2021 A Scow National Championship Regatta.
If you have any questions or need help w/ logistics, missing crew, or anything else related to A Scows—please feel free to call or email Todd Haines.  Very excited to get back to racing the greatest Sailing/racing craft on the planet!
Regatta Chairs:
Todd Haines
414-881-4119
V115@mailbag.com
Dave Decker (Dex)
262-327-3652
brudex@yahoo.com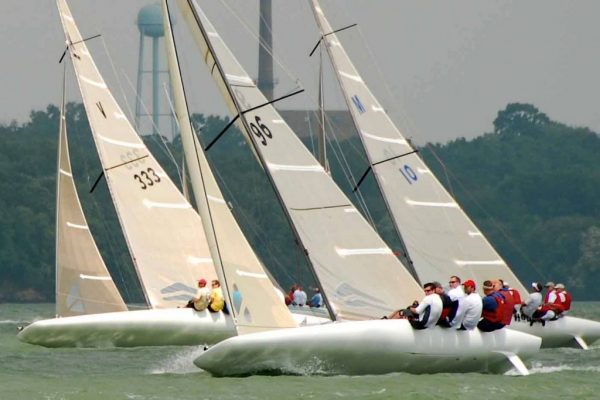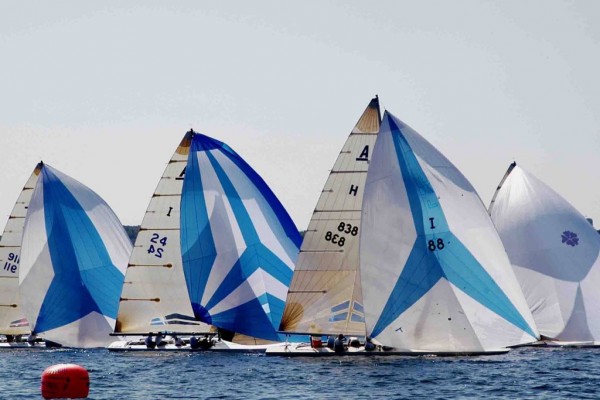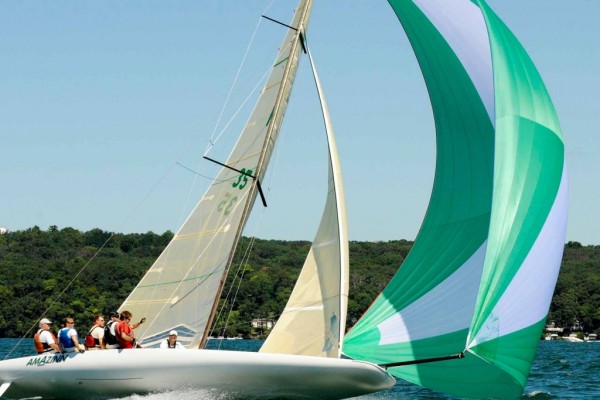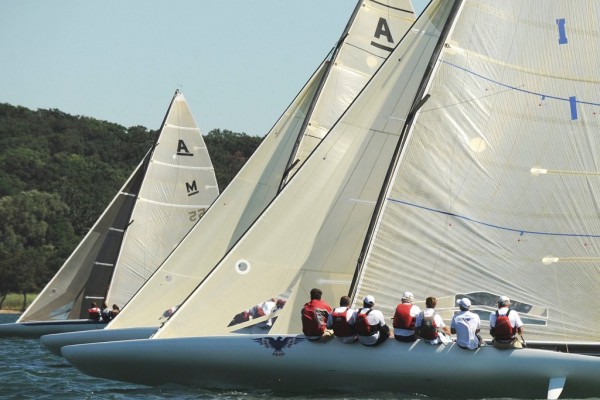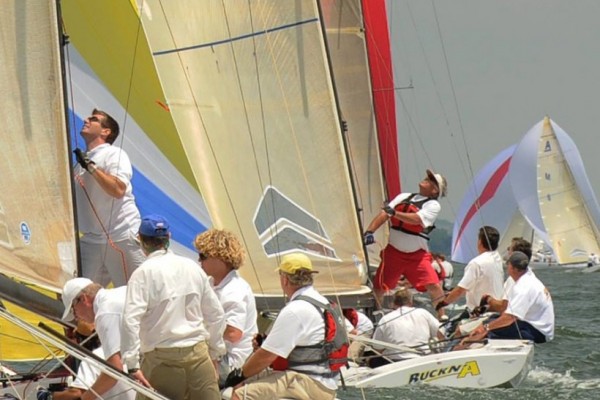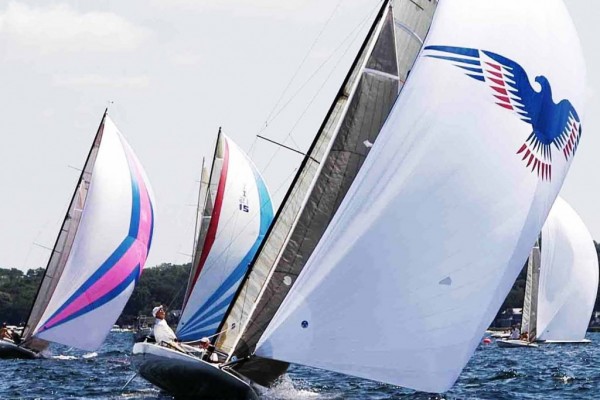 The 38 foot (11.58 meter) Class A Scow is the largest, fastest, and most powerful inland scow sailboat. Originally designed in the late 1800's by John O. Johnson of Johnson Boat Works (White Bear Lake, MN) the boat retains the same shape and size as the original boats. With the move to fiberglass and carbon construction, the addition of a bow sprit and a massive asymmetrical spinnaker, combined with a carbon fiber swept-spreader rig, the class is stronger than ever.
Today's A Scow, produced by Melges Performance Sailboats of Zenda, WI, has all the modern, sophisticated rigging and gear (from the good folks at Harken) needed to make this unbelievable boat simply rock on the water. Powered by North Sails, able to pull water-skiers, and having been clocked at over 25 mph in a good blow, the A Scow is a worthy challenge for even the most experienced sailors. Unlike keelboats of this size, the A Scow uses only dual bilge boards for stability and thus requires a crew of 6 or 7 people to keep her upright in heavy air.
We hope you will explore our website and see what makes the A Scow so much fun!
A Scow Events
2021 A Scow National Championship Regatta – Pewaukee Yacht Club, WI
Set-up and Check-In Date: Thursday June 24, 2021
Race Dates: Friday June 25 – Sunday June 27
Location: Pewaukee Yacht Club
Registration: Yacht Scoring
Official Event Website: NCASA

2021 ILYA Annual Championship Regatta – Lake Okoboji, IA 
Set-up and Check-In Date: Sunday, August 15, 2021
Race Dates: August 16 – 19, 2021
Location: Okoboji Yacht Club
Registration: TBD
Official Event Website: ILYA

Future Venues:
2022 A Scow National Championship Regatta – TBD Yacht Club
Set-up and Check-In Date: Thursday after Father's Day
Race Dates: