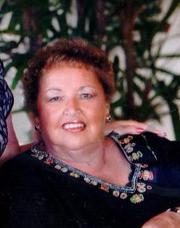 April 17, 2016 – Deonna Haines – #1 A Scow fan from Pewaukee Lake

I am sorry to report that our A Scow family has lost a longtime supporter and enthusiast. Deonna Haines, mother of NCASA Executive Director Todd Haines, passed away on Sunday April 17 after a brief illness.
Todd notes that without her continuous support, their family would likely not be involved in sailing today. "She was the spark, the coach, and the glue that kept our family involved in sailing over many decades", said Todd.
The visitation for Deonna will be held this Saturday, April 23, 2016 from 9:00 a.m. until 10:45 a.m. The funeral service will follow at 11:00 a.m. Both will be held at All Saints Lutheran Church, 705 W. Tomlin Rd, Wales, WI 53183. Burial will immediately follow at Summit Cemetery.
Memorials are appreciated to AngelsGrace Hospice (N74 W35908 Servants Way, Oconomowoc, WI. 53066). The Haines family would like to thank all of the doctors, nurses, and caregivers who gave her exceptional care.
Full details can be found online.
Pewaukee Yacht Club and NCASA have lost a true supporter of scow sailing. Please keep Todd and the entire Haines family in your thoughts and prayers at this difficult time.
Lee Alnes
Commodore, National Class A Scow Association