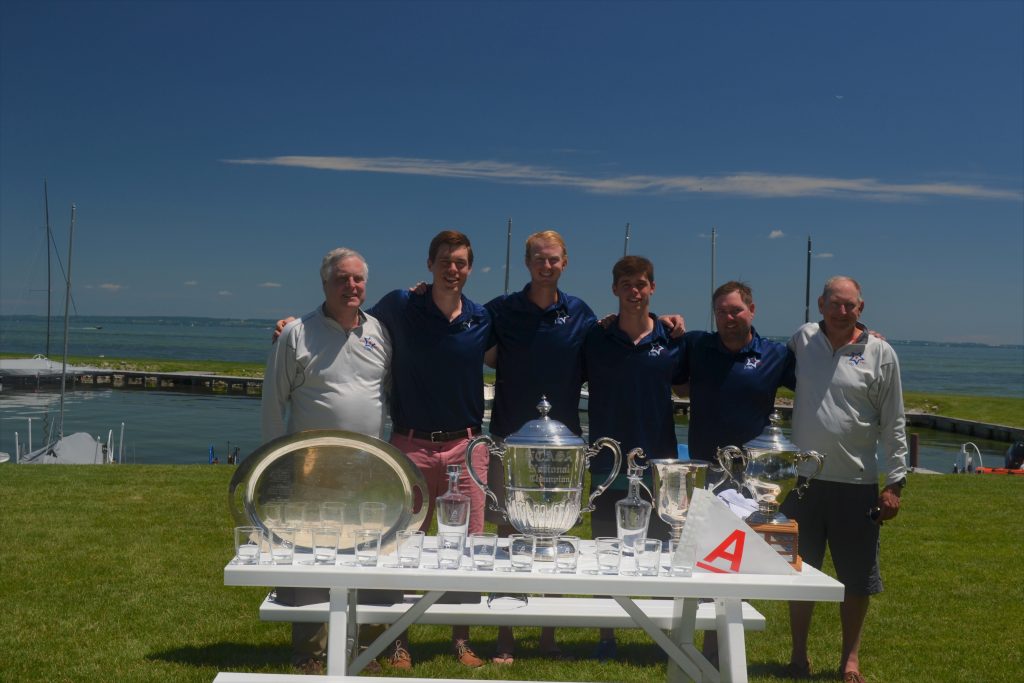 Lamphere Wins 2018 Nationals!
---
NOTE: We still have 2018 Regatta Gear (and lots of other cool stuff) available in our Online Store. We will take orders for a couple more weeks for anyone who missed out.
---
Four of six scheduled races were completed at the 2018 NCASA National Championship Regatta held on Lake Winnebago, WI and hosted by the Oshkosh Yacht Club. Chuck Lamphere (I-96) and the White Magic Team won the event with two firsts, a third and an eighth. Crewing on the I-96 were John and David Porter, Chuck's sons Gordon and Malcolm Lamphere and Michael Barr.
The event kicked-off Thursday June, 21 with a running of the Felker Cup Race which Lamphere and team also won! This special race has been conducted in A scows for well over 100 years on a 12 mile triangular course. Conditions on Lake Winnebago for the 2018 race were challenging with winds in the 15-18 mph range with some gusts over 20 producing large waves. 14 boats started, but only 6 finished! Felker Cup results were:
1) I-96 – Chuck Lamphere
2) I-55 – Mike Keefe
3) J-25 – Tom Castle
4) OO-5 – Tommy Groskopf
5) W-25 – Lee Alnes
6) V-3 – Coleman Norris
Racing on Friday had great breeze in the 8-15 mph range and excellent race conditions. Lamphere won the first race, with Tom Burton / Jud Dayton (M-8, Instigator) taking race 2.
Saturday had considerably less wind and very challenging race conditions with a northeast breeze around 7-8 mph. The M-8 Team won the first race of the day and Lamphere won the second. Lamphere carried a five point lead into the final races scheduled for Sunday morning, but Sunday dawned with almost no breeze and promptly got worse. PRO Mark DeGuire and his team did a fantastic job running the racing and made the call to abandon racing Sunday morning when the breeze went to nothing.
Rounding out the top five were T. Freytag (MadCap, I-7), Tom Burton / Jud Dayton (Instigator, M-8), Pat Hughes (Melvin, M-21) and Lee Alnes (Euphoria, W-25).
All the teams got together at The Waters for our traditional banquet with a great buffet dinner following the racing Saturday night. An open bar kept the festivities going well into the evening as sailors enjoyed the magnificent view and swapped stories on the upper deck.
Special Thanks to Regatta Chair Jason Hirschberg, event co-chair Todd Haines and all the volunteers for organizing a fantastic regatta!
NOTE: The 2019 A Scow National Championship Regatta will be hosted by the Mendota Yacht Club with Set-up and Check-In on June 20, 2019, and racing conducted June 21-23, 2019. See you there.