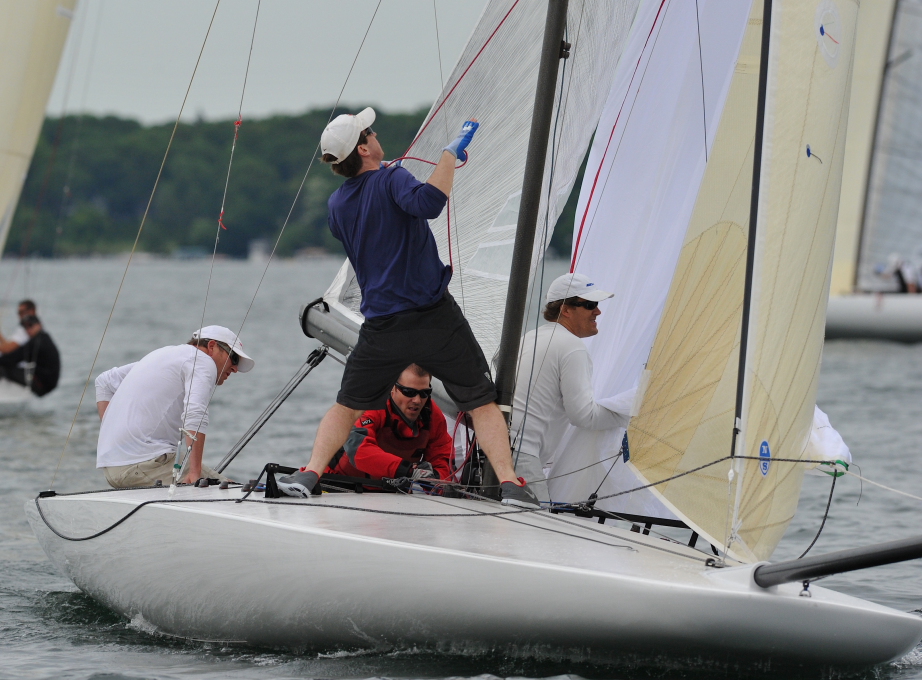 Lake Geneva, Wisc. – Day one of the 2013 A Scow National Championship, hosted by the Lake Geneva Yacht Club was put on hold almost right from the get go. A terrific line of thunderstorms threatened Lake Geneva with high winds and torrential rain, forcing PRO Hank Stuart to AP on shore.
Several hours passed as teams waited on land for the storm to pass and conditions to stabilize in hopes of squeezing in some racing.
The AP was dropped just after 3 o'clock and around 4.17 p.m. teams went racing under light conditions. 2012 A Scow Big Inland Champion Pat Hughes from Lake Minnetonka on Melvin came out on top. "It was fun to be on the water. Today's one and only race was the first race for Team Melvin this year." said a relaxed and laughing Hughes post racing. "As we look ahead to tomorrow, I hope there is more wind than there was today."
Following up in second overall is defending National champion Andy Burdick in the driver seat of Terry Blanchard's Silverhawk. In third is 2010 National Champion Tom Freytag on MadCap.
Racing continues on Saturday with a 10.30 warning.
A SCOW MEDIA
The National Class A Scow Association (NCASA) is excited to be bring fans, friends and family more of the action from Nationals. Tune in here, at the Official Website of the NCASA, or check us out on Facebook. Periodic updates and images will be featured. Video interviews are streaming in from Penalty Box Productions' very own Petey Crawford.
TOP FIVE RESULTS (After One Race)
1.) Pat Hughes, Melvin; 1 = 1
2.) Andy Burdick/Terry Blanchard, Silverhawk; 2 = 2
3.) Tom Freytag, MadCap; 3 = 3
4.) Vincent Porter/John Anderson, Eagle; 4 = 4
5.) Mike Keefe, Ajax; 5 = 5
View Full Race Results
View Photo Gallery – Steve Bernstein