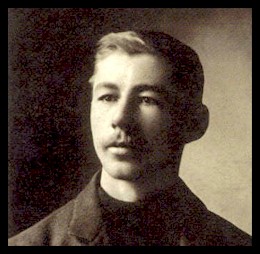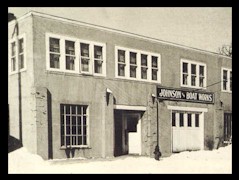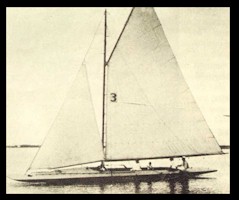 J.O. Johnson, Boat Builder
J.O. Johnson was born in Norway in 1875, and orphaned at a very young age.  He was sent off to live with relatives.  At age 14, he worked as a galley boy on a mail and freight delivery schooner up and down the coast.  His future employer, Gus Amundson, while on a visit to his homeland, offered Johnson a job if he ever came to the United States.  In 1893, when he was 18 years old, J.O. Johnson came to his new home in White Bear Lake, Minnesota.
The Early Days
For 2 years, J.O. worked for Amundson, building rowboats and traditionally styled displacement sailboats for the inland lakes of Minnesota, but he was more fascinated with boat design than he was with construction.  He was convinced that the displacement sailboats offered too much resistance and began designing a radically different type of sailboat; one that would ride on top of the water, instead of plowing through it.  He proposed this new design to Amundson, who would not hear of it.  If Johnson wanted to build such a boat, he would have to do it on his own time and in his own shop. 
One afternoon, while conversing with one of Amundson's customers, Johnson "leaked" his idea.  This customer agreed to foot the bill for this new design, just for the fun of putting one over on his friends at the White Bear Yacht Club, the exclusive domain of some of Minnesota's wealthiest sailors.
The Birth of the "Inland Scow"
Overnight, J.O. Johnson became self-employed.  He rented a building on the site where the White Bear Boat Works would stand for over 100 years, and started work on his new design.  At that time, he didn't know how to draft plans, and this new boat turned out to be 38 feet long with square ends and a centerboard.  Unlike the other deep-hulled, heavy ballasted boats usually raced in inland waters, Johnson's scow had a radical dish design so it could skim across the top of the water.  A centerboard provided stability. 
When the Yacht Club called one of their regularly scheduled races in 1896, and with a minimum of preparation, Johnson entered his new design.  Johnson's boat looked so different that all his friends laughed and teased him saying, "It looks like a slice of bread" and "It looks like a scow".  This jeering was short-lived, however, as the Johnson Scow not only lapped the fleet, but was home with the sails down by the time the second place boat crossed the finish line.
This invention was the first sailing scow.  It became the heart of a family business which Johnson established within a block of the Amundson Boat Works.  His old boss became his competitor, but they remained lifelong friends.
Impressed by Johnson's victory and apparent foresight, C. Milton Griggs, a wealthy sailing enthusiast living on Manitou Island in White Bear Lake, rendered Johnson enough financing to produce another boat.  By the turn of the century, Johnson offered the sailing world a 38 foot, flat bottomed scow, named the "Minnezitka" with a profile as "low as the waves themselves".  The Minnezitka was sleek and narrow with an impressive mast, and yards of sail.  She racked up victory after victory.  The Minnezitka became the predecessor of the legendary Class A Scow that we still race today.
The Johnson Scow became the talk of the inland sailing fraternity.  Orders for more scows came in and Johnson started hiring men to help him.  By 1904, the Johnson Boat Works of White Bear Lake was in full production, and J.O. Johnson was recognized as one of the top designers of sailboats for racing on inland lakes.  In the early 1900s, a 32-foot, Class B Scow became popular, along with the 20-foot, cat-rigged C Scow.  Several of these Class B boats were shipped to Montreal, Canada for international races during prohibition.  When they returned, they were secretly packed with liquor for the "deprived" White Bear yachtsmen.
The last wooden A scow built for Jack Pillsbury of Lake Minnetonka rolled out of the Johnson shop in the spring of 1963. She was named XXXX, presumably after the Pillsbury flour brand carrying the same emblem, but her owner was heard to say that it was the only name that spelled the same right side up or up side down. Pillsbury went on to win the ILYA Championship with the boat. Remarkably, this boat is still racing today and has been completely restored and fitted with a carbon mast and boom and a bow sprit. It is owned by Fletcher Driscoll of the White Bear Yacht Club and Steve Johnson, J.O.'s grandson is the helmsman.

J.O. Johnson passed away in 1963 at the age of 88, but his legacy lives on. He went on to create several classes of scows after the A scow, but none were longer or carried more sail area than his early design.